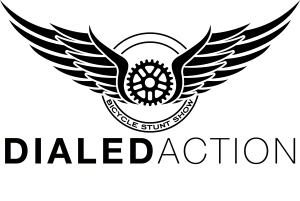 Professional trials rider Chris Clark has been competing and performing around the world for the past 15 years. Over that time, he has worked with organizations like The Olympic Games, Wal- Mart, NFL teams, bicycle companies, and major automobile manufacturers to bring excitement and consumer activation to live events.
In 2013, Chris will be hitting the road with the Chris Clark Bicycle Stunt Show.
This turn-key entertainment option allows event promoters to effortlessly bring excitement and energy to events of all types. Chris' demonstration set includes all the ramps, audio equipment, and music needed for the show.
Each 30 minute show is a breathtaking display of balance and agility as Chris maneuvers his bike and body over his custom built ramps and obstacles, displaying the skills he has acquired in his years of national and international competitive experience. Chris even gets the audience involved by including volunteers from the crowd as part of the show.
Each demonstration is followed by an autograph session and give-away of free merchandise. Attendees also have the chance to enter to win Chris' bike at the end of the season (valued at over $3000)
Marketing Assistance:
Chris assists each venue where he is scheduled to perform in the following ways:
"Coming Soon" posters will be sent out in advance of performance date.
High resolution images and a professional show description will be sent to event promoters for use on website, in news articles, e-blasts, etc.
Teaser videos such as this https://vimeo.com/53785221 will be sent out in advance of performance date to generate audience excitement.
Press releases will be sent to local media outlets
Event attendees will have the opportunity to enter to win Chris' bike at the end of the season, valued at over $3000
Programs:
Mountain Bike Show
BMX Show
FMX Show
Grandstand Show
2020 Action Sports Brochure: