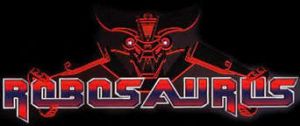 Want a MONSTER attraction that your fans will talk about for years? Then you can't beat ROBOSAURUS, "The World's Largest Robot". Robo, as we affectionately call him has been performing at Motorsports Events, Airshows, Nascar Tracks, Parades, City Events, Company Sales Promotions, and Theme Parks all over the world. This Hollywood style spectacle is also the "World's Largest Transformer", changing from a semi-trailer to an awe inspiring robot in less than two minutes. He is capable of lifting 4,000 pounds and can breathe 20 foot fingers of flame with his propane powered burners. Robo's voice is produced by a 6000 watt onboard sound system that can be radio linked to your event sound system. Is it any wonder that Robo is considered a cutting edge feat of technology by the scientific community. This fact along with his clever characterization as half robot, half dinosaur and all fun amazes adults and kids alike in his larger than life performances. But don't take our word for it. Check out some of our letters of recommendation, or better yet, give them a call. You can not find a better crowd and publicity draw anywhere!
ROBOSAURUS is a 40-foot tall 30-ton mechanical dinosaur which has thrilled crowds at a variety of venues including appearances at Universal Studios Florida theme park, exposure on The Tonight Show with Jay Leno, ESPN cable sports network, a date with Super Dave, Universal Studios, and a starring role in an NBC movie, "STEEL JUSTICE".
Billed as The First REAL Superhero, ROBOSAURUS is a great crowd draw and a real publicity bonanza. As a Headline attraction ROBO has broken attendance records at venues such as The Superdome in New Orleans, The Kingdome in Seattle and other airshows and motorsports events across the country.
ROBOSAURUS is action at its most exciting. The crowd feels the heat of 20-foot flames shooting from giant nostrils and hears the sound of crunching jaws and tearing metal as the towering beast roars into action. Robosaurus appeals to all age groups; adults are fascinated by the computerized beasts technology and children by its "Superhero" characterization.