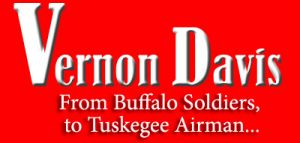 From Buffalo Soldiers, To Tuskegee Airman, To Present Day
The personal retrospective and memories of the history of African Americans in the U.S. Military and how they helped to shape our country!


Presented by Vernon E. Davis II

For those who paid the ultimate price for freedom with their lives, we bow our heads in honor. For our friends and comrades who continue to serve as POW's and MIA's, we are deeply saddened and await your return to either walk on or be laid to rest in the land you proudly defended.

Program will include:
The Buffalo Soldiers of the 9th and 10th Calvary Regiments that patrolled and protected wagon trains, settlements and helped make it safe for others to travel to the western frontier.

Davis will tell the story of Brig. General Benjamin O. Davis, Sr., America's first black General in U.S. History.

The Tuskegee Airmen of WWII were the first squadron of all black fighter pilots. They were the best that ever flew escorts for the bombers in WWII, never losing a single bomber during their tours, which helped us to end WWII.

Davis will tell of General Benjamin O. Davis, Jr. American's second black General in U.S. History.

Davis will tell of his own military history and of the other brave soldiers that served with him.

Davis will tell the stories of other great African American men and women that have served in our military before, during and after war times, that have risen to the rank of General Officers. Listens as he tells the stories of how these individuals made a difference and helped shape our country.