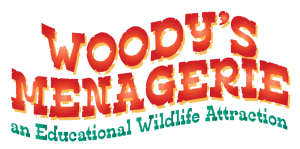 LIONS, TIGERS, BEARS, OH MY GOSH............
Woody's Educational Wildlife Presentation will amaze you. Woody's show features animals that are different than the species we use in the wildlife attraction. The show can be adjusted to fill any time slot 15 minutes to 45 minutes.
The main thing Woody does is educate the public on animal characteristics from one species to another in a show that is totally self contained. Elsenpeter Productions would like to offer you our Educational Wildlife Attraction featuring animals from around the world, giving you the chance to actually feed, pet, and educate yourself on the different species of animals we display.

Woody's is a family owned and operated attraction since 1991. Our purpose is to entertain the public and at the same time educate them about various kinds of wildlife from around the world.

Woody's prides itself in providing a wide variety of animals in their exhibit. This is done as an exceptionally clean and professionally presented attraction. Many of the animals in the exhibit are actually hand raised and cared for by us from birth. They are not only animals in an exhibit, they are our pets. The public can feed, pet and educate themselves about the animals up close and personal.