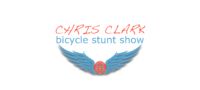 Media Release
Sent To:
Date:
For Immediate Release
Chris Clark began his cycling career at age 12 with a local cross country race in his home state of New Jersey. Quickly realizing that endurance racing was not his specialty, Chris learned about the sport of observed trials (stunt mountain biking) and turned his full attention toward that discipline. 
After months of training, he and some of his riding friends entered their first trials competition and were surprised by the level of talent of the other beginner level competitors. Chris spent the following winter practicing all aspects of his riding and studying the cycling videos of legendary riders like Hans Rey and Libor Karas, frame by frame to better understand the specific skills and techniques needed for trials competition.
After a winter of rigorous practice, Chris entered his first National event at Mt Snow, Vermont and won the beginner class. He moved up to the intermediate class in his next contest, and won the event with a perfect score.
Chris began his professional cycling career on his 14th birthday with a demonstration at the Sands Convention Center in Las Vegas Nevada, performing at the Mobil World '98 Convention. That same year, Chris toured the country on the National circuit competing for the Junior National Championship. 
Since becoming the National Cycling Associations youngest professional rider at the age of 15, Chris has competed in over 50 National Events and was even selected as a member of the American Team to compete at the World Championships in Sierra Nevada, Spain .
 Throughout his career Chris has been able to parlay the skills he has developed in National and International competition into a breathtaking Bicycle Stunt Show. Chris has performed for thousands at venues like Times Square NYC, The Gravity Games, The Olympic Games, NFL games, and at over 40 venues on the Vans Warped Tour. 
Professional trials rider Chris Clark has been competing and performing around the world for the past 15 years. Over that time, he has worked with organizations like The Olympic Games, Wal- Mart, NFL teams, bicycle companies, and major automobile manufacturers to bring excitement and consumer activation to live events.
In 2013, Chris will be hitting the road with the Chris Clark Bicycle Stunt Show.
This turn-key entertainment option allows event promoters to effortlessly bring excitement and energy to events of all types. Chris' demonstration set includes all the ramps, audio equipment, and music needed for the show.
Each 30 minute show is a breathtaking display of balance and agility as Chris maneuvers his bike and body over his custom built ramps and obstacles, displaying the skills he has acquired in his years of national and international competitive experience. Chris even gets the audience involved by including volunteers from the crowd as part of the show.
Each demonstration is followed by an autograph session and give-away of free merchandise. Attendees also have the chance to enter to win Chris' bike at the end of the season (valued at over $3000!)
Program Information:
Contact:
Phone:
Address:
Date:
Time:
Tickets:
For more information, to arrange interviews, or for photo opportunities, please contact:
Elsenpeter Productions
Richard B. Elsenpeter, owner
109 West 7th St., New London, MO 63459
Phone: (217) 335-3338
Email: rbelsenpeter@yahoo.com

Web Site: ElsenpeterProductions.com
Please feel free to use any material posted on our Web Site.