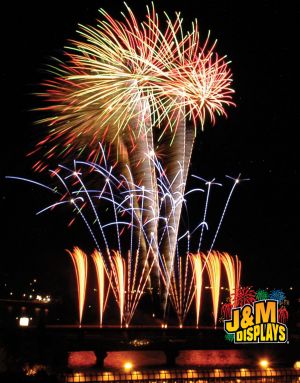 Media Release
Sent To:
Date:
For Immediate Release
From the sandy beaches of Florida to the famous bourbon Street in New Orleans, J&M rocked crowds around the country with the best in spectacular pyrotechnics. And here, in the Heartland of America, J&M Displays dominated the Midwestern skies over the July 4thholidays.
J&M Displays is one of the largest suppliers of Fireworks in the Midwest, providing fireworks and other special effects for all types of events, big and small. Their team of expert pyrotechnicians are creative, highly trained, and will make every event one to remember!
For over 25 years, they've earned a reputation for reliability, customer satisfaction, safety and professionalism. Their Display Operators bring a wealth of talent and creativity to every performance.                       
J&M incorporates state-of-the-art innovations in pyrotechnics to assure amazing results.  The stringent quality controls mean better reliability, pattern, color, and duration. They customize each show to both surprise and impress their audience. We make magic like no one else and we will leave the crowd breathless!
Our mission is to be the Midwest's most respected fireworks supplier by providing high quality products, superior customer service, and exciting entertainment. Our passion for entertainment is evident in every display we create, and innovation is continually encouraged. Expert knowledge is shared and unforgettable displays are consistently produced day after day. Our goal is to build lasting relationships with our customers and honor our commitments while producing memorable events. 
Program Information:
Contact:
Phone:
Address:
Date:
Time:
Tickets:
For more information, to arrange interviews, or for photo opportunities, please contact:
Elsenpeter Productions
Richard B. Elsenpeter, owner
109 West 7th St., New London, MO 63459
Phone: (217) 335-3338
Email: rbelsenpeter@yahoo.com

Web Site: ElsenpeterProductions.com
Please feel free to use any material posted on our Web Site.