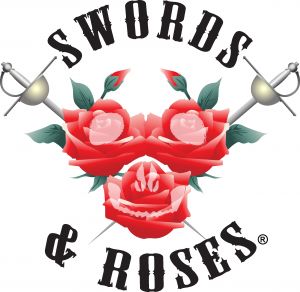 Media Release
Sent To:
Date:
For Immediate Release
Swords and Roses

Swords and Roses is a singing, sword-swinging, all female stunt show, dedicated to entertaining and informing.
From two to twelve actresses (in period-authentic costumes), will perform a program that will features a play, an original song and includes family-friendly comedy, audience participation, singing, choreographed sword play with rapiers, and swashbuckling fun. There are two possible endings written for every show and the audience will get to choose how their show will end.
Swords and Roses started as a sister act whose mission was to educate and entertain-values that are carried out to this day, but now is celebrating over 10 years of swashbuckling fun. Swords and Roses were founded by real life sisters Maria and Susan Romine. As a professional actress, Maria holds a B.A. in Communications and Theater. Susan holds a M.A. in Education and is a reading consultant.
The company expanded in 2009 and is made up of professional actresses and educators who are dedicated to providing a high-quality, action packed, and very fun program. Maria trains each member of the company using the same disciplines that she learned through the Society of American Fight Directors. Each cast member adds her own unique talents and personality to the shows making each performance one-of-a-kind.
Program Information:
Contact:
Phone:
Address:
Date:
Time:
Tickets:
For more information, to arrange interviews, or for photo opportunities, please contact:
Elsenpeter Productions
Richard B. Elsenpeter, owner
109 West 7th St., New London, MO 63459
Phone: (217) 335-3338
Email: rbelsenpeter@yahoo.com

Web Site: ElsenpeterProductions.com
Please feel free to use any material posted on our Web Site.