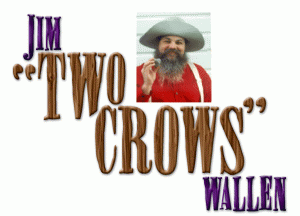 Media Release
Sent To:
Date:
For Immediate Release
National award winner Jim Two Crows Wallen is a freelance oral historian who combines his love of history with a good story keeping you spellbound. Two Crows has been sharing stories for 25 years, averaging over 300 performances per year. The Missouri native has captured audiences spanning three continents. You, too, can become part of the story. Two Crows' presentations are interactive and age-appropriate. His stories are carefully researched and his clothing is personally hand-designed and historically accurate. Two Crows has been recognized throughout the nation for his outstanding work.

"He made me feel like I was actually there!" Two Crows invites you to be submerged in history through his exciting presentations.
Program Information:
Contact:
Phone:
Address:
Date:
Time:
Tickets:
For more information, to arrange interviews, or for photo opportunities, please contact:
Elsenpeter Productions
Richard B. Elsenpeter, owner
109 West 7th St., New London, MO 63459
Phone: (217) 335-3338
Email: rbelsenpeter@yahoo.com

Web Site: ElsenpeterProductions.com
Please feel free to use any material posted on our Web Site.